Hello ACS Families,
Here are your updates for the week ending on Friday, December 16, 2022…
The angel said to them, "Do not be afraid; for behold, I proclaim to you good news of great joy that will be for all the people. For today in the city of David a Savior has been born for you who is Messiah and Lord. (Luke 2:10-11)
Merry Christmas and may His Joy be in your hearts and with your family throughout.
What's Happening?
December 19 – Jan 2: Christmas break. Merry Christmas! Staff and students return on January 3, 2023.
December 16, Friday: Welcome to your new lunch program – Dishes2U. Ordering for January-March opens today! Lunch options are from Rubio's, Panera Bread & Papa John's (1 vendor per day)! Two more vendors will be coming. Ordering deadline is 11am one day prior to the meal date! See attached fliers for directions to order lunches.
Talent Show rescheduled. Due to the Eucharistic Miracles Exhibition that will be in the hall during Catholic Schools Week, we are going to move the Talent Show to later in the year, possibly May.
Shredding with Santa: Little Dealer Little Prices, a Campers RV company, is reaching out regarding an event we are holding on December 10th from 9am – 12pm. This event is Shredding with Santa, benefiting Operation Santa Claus, however, donations are being accepted between now and December 19th at their showroom in Phoenix: 2350 W Deer Valley Rd. Phoenix AZ 85027. Any donation also qualifies to be entered into a raffle for a new F-150 of Lincoln Corsair.
Pajama Drive Success!
327 pajamas collected! Thank you, ACS Families, for your generous support for the Pajama Project!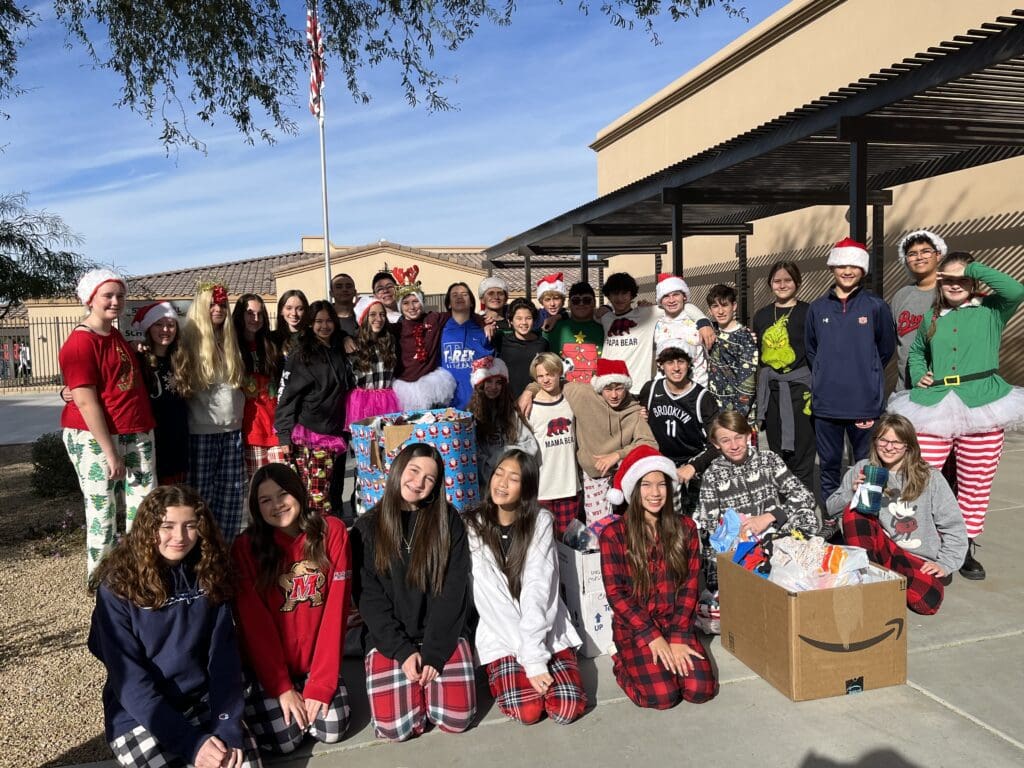 Future Happenings
Soccer Shots Jan 11 – May 24 on Wednesdays after school. Soccer Shots is super excited to kick-off the spring 2023 season. We are super grateful for their continued partnership and continuing to have a positive impact with ACS! Families can continue enrolling for the Spring Season with this enrollment Link: https://phoenix.soccershots.com/pd/533/annunciation-catholic-school. Attached is a Soccer Shots flier.
February 5, Sunday: ACS Father & Son Bowling Bash! ACS boys and dads, save the date for our Dads Club bowling outing, Sunday, February 4, 1:00 p.m. Sign up details will be shared after Christmas break.
February 24, Friday: ACS Night at the Phoenix Suns Game! Join us for the Suns vs. Thunder game, discounted tickets include special access to watch pregame warm-ups courtside. Look for email announcements after Christmas break with a link to purchase tickets. Send questions to Mike Scagnoli, mscagnoli@gmail.com.
March 4, Saturday: Annual Daddy & Daughter Dance 6:30 – 8:30pm, ACS Outdoor Pavilion. Save the date!
Volunteer Opportunities
Evening Under the Stars– The Evening Under the Stars-The Joker's Wild- will be held on Saturday, April 1, 2023. A lot of fun things are planned for this event. If you are interested in being part of the team, please email Keli McCann at kmccann@acsphx.org. Volunteers are needed for the following committees: Auction, Donations, Sponsorships, Baskets, Setup, and Clean up.
ACS Volunteers: We appreciate all of our ACS volunteers.
· Complete your Safe Environment Training with CMGconnect . All training is online – renewal (Online Renewal for Lay Persons -Safe Haven Part 3) and 1st time volunteers: Online Foundation Training Safe Haven-It's Up to You. Instructions are attached. Your safe environment training must be completed prior to volunteering on campus. Please complete it as soon as possible.
·         MobileServe App is used to track all volunteer hours.  Parents, please create an account.  Instructions are attached. With your account, you'll be able to view and sign up for events at the school.  View and join the volunteer opportunities that are available.  Thank you for being part of the ACS Community.  URGENT: We need volunteers for lunch duty for January!  Lunchtime is an easy way to volunteer, meet new friends and see your student!  Plus, we need your help!  Please sign up to volunteer for Lunch Duty in January.
Flyers